Proton
WHAT, HOW & WHY.
Proton is a full-service Virtual Reality solution for rehabilitation hospitals that allows them to offer VR-based entertainment and care to their patients.
It works with low-end Virtual Reality like current-gen smartphones, and a collection of outputs that are based in co-op games that are either played in group or turn-by-turn.
Since 2014, IED Barcelona has participated in CBI Mediterranean, a multidisciplinary project that gathers students from UPC (engineering) and ESADE (MBA). We had the delicate topic of returning traffic accident victims that suffered psychological injuries to working life. We used Design Thinking as our primary tool for developing the solution.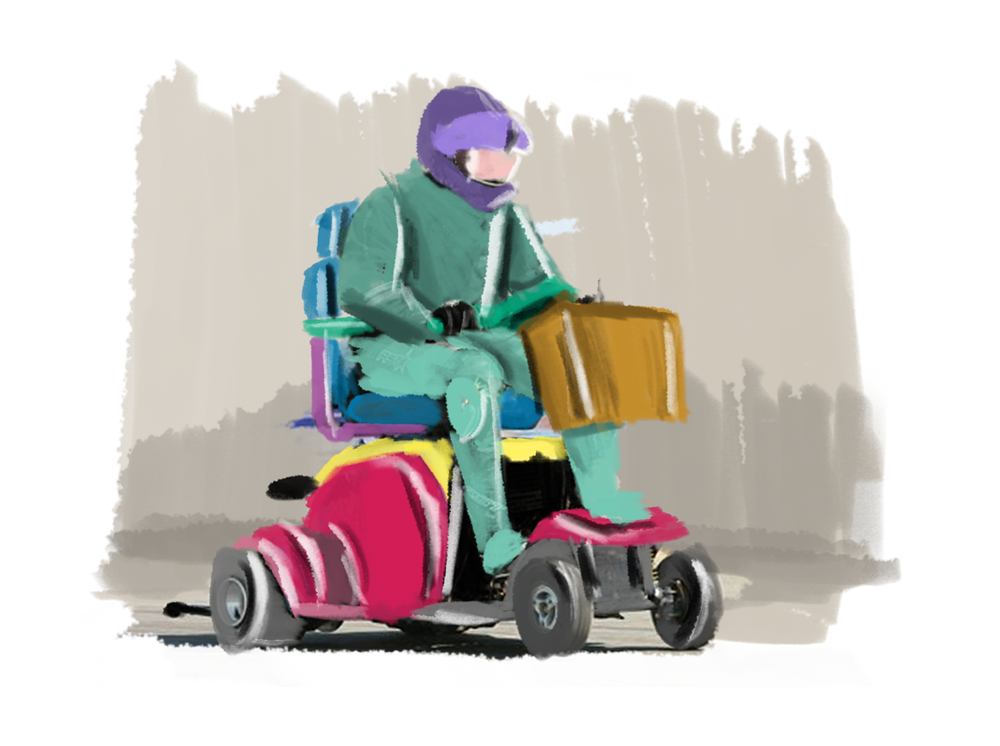 USING DESIGN THINKING.
The whole point of the CBI program is to teach every attendee how to solve problems like a designer. Meaning; many iterations, large amounts of user feedback and a cyclical way of proceeding.
This proved to be particularly challenging when convincing other students from different disciplines that Design Thinking is one of the better ways to proceed, as engineering and business schools have different problem-solving methods.
FROM VICTIM TO SURVIVOR
We interviewed traffic accident survivors, psychologists, psychiatrists, and alternative medicine specialists. Pretty much anybody and everybody that had dealt with these atrocious circumstances.
The one thing we learned relatively quickly was that every patient is their own world, so a solution that fit everyone was impossible. The next best thing was a 'something' that helped people shape their own struggles into it, and Virtual Reality simulations seemed to fit the description.
PROTON, CHARGE UP
After deciding that a VR-based solution was the way to go, we started the whole 'package' side of the project. We needed a solid business plan, a functioning demo and an attractive interface.
Luckily, our team was perfectly built for that. It was extremely interesting to develop, as I had never before considered doing a 360 degree interface or anything in this kind of medium, so making from scratch a useful, serious and compelling identity was equal parts motivating and challenging.
DEMOS, INVESTORS AND KEYNOTES
As the Keynote was approaching, we were working overtime, some days about 16 hours straight with few breaks, to develop all the objectives we wanted to hit.
Towards the final days, rehearsing was getting mixed with the interface, and we decided that since the most appealing part of the presentation was being done by designers anyway, we should be up there.
The last two nights were insanity, as we went from needing a booth for attendees, a scripted Keynote and a working Demo to having them ready for the right time.
As nerve racking is it was, preparing everything was a lot of fun, particularly when you get to be pretty much as comfortable as possible with the material, and know that you have the right team doing their best.
BEYOND CERN
After the whole experience, we had some time to think about what to do with Proton, and decided it would be best to leave all creative rights and patents to CERN and IdeaSquare, as it was just simpler and none of the team members wanted to take on this endeavour alone.
Besides positive feedback from users and potential differing outputs that we hadn't considered, we were featured in a Barcelona radio called Betevé, mainly to talk about Proton and the experience as a whole.
This was my second project with CERN, and it was an intense and marvellous experience. It was three months of non-stop ideation that left a wonderful desire for implementing new technologies into unthinkable issues.
TEAM: JUNIOR GONZÁLEZ, IGNACIO VILANOVA, CARLOS GARCÍA CALATRAVA, CLARA BONNÍN, BEN SYKORA, ITSUMA TANAKA.
SPECIAL THANKS: LUCIANA LEVERATTO, IDEASQUARE STAFF, JOONA KURIKKA, TUULI UTRIAINEN.